Step 2: Front Desk Process - From Check-in to Check-out



Check-in the Expedia Collect reservation

- Choose City Ledger as Method of Payment

- Choose the Expedia Account created in Step 1

- Click OK

Post the Credit Card Payment in the Folio

- Go back into the reservation and verify the amount on the virtual credit card by viewing the CRS Comments

- Click on the button CRS, next to Comments

- Go to View Folio, and post the credit card payment in the folio

- Make sure the payment amount matches the CRS comments

Check-out the Expedia Collect reservation

- The folio will have a debit balance from the difference between the virtual credit card payment amount and the total charges. The virtual credit card covers only the hotel part of the stay, without Expedia commission.

- Click Check-Out

- You will have a message asking if you want to post the difference to the City Ledger account that you checked the reservation with

- Click Yes
- The Direct Bill (DB) payment for the remaining balance to the Expedia Collect City Ledger account is now posted
- Folio now has a 0 balance and can be checked out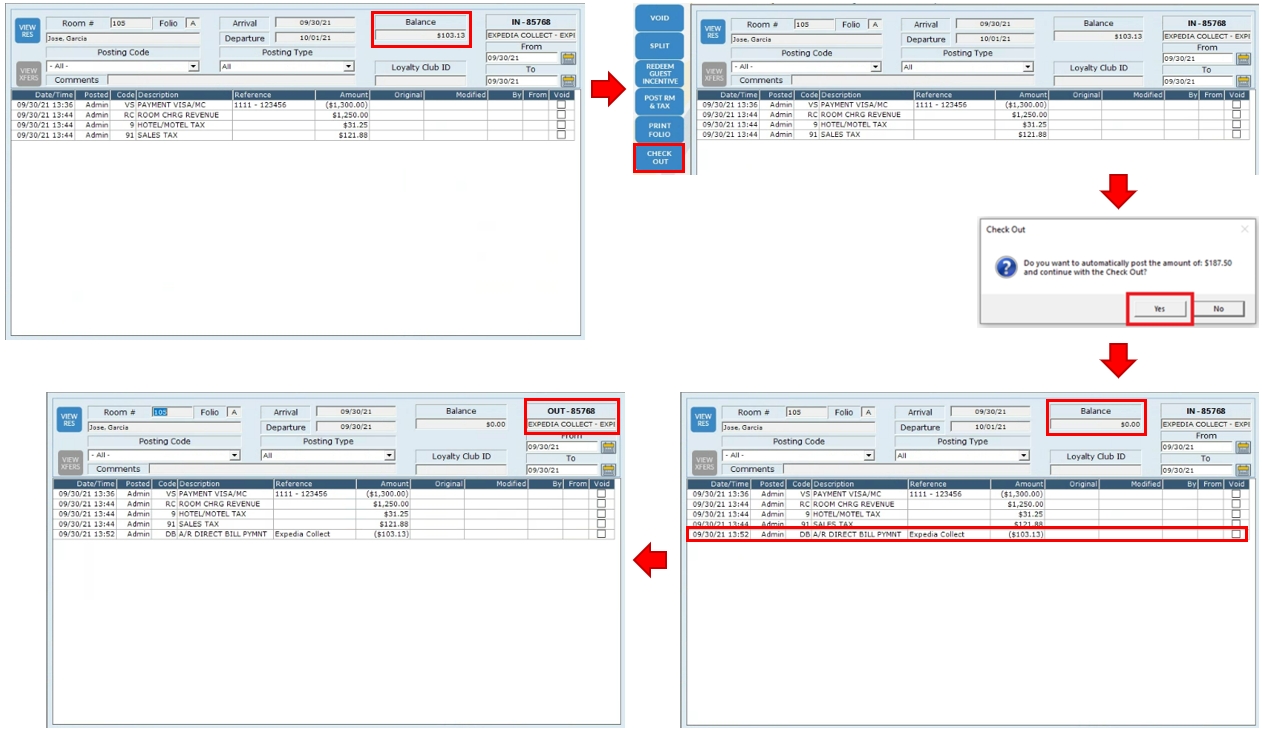 Step 3: City Ledger Reconciling



Once a month Expedia will have a recap of all the Expedia Collect reservations.

Hotels should compare the totals Expedia has with the totals in Visual Matrix.

Print Invoices

Once a Direct Bill payment is posted on a guest folio, it will show up in the Accounting section, in Print Invoices.

- Go to Accounting > City Ledger > Print Invoices.
A Visual Matrix user must Print these direct bills into Invoices. This can be done once a day, once a week, or once a month, depending on hotels procedures.
- Select all the invoices related to Expedia Collect

- Click Print

- Click Close at the bottom left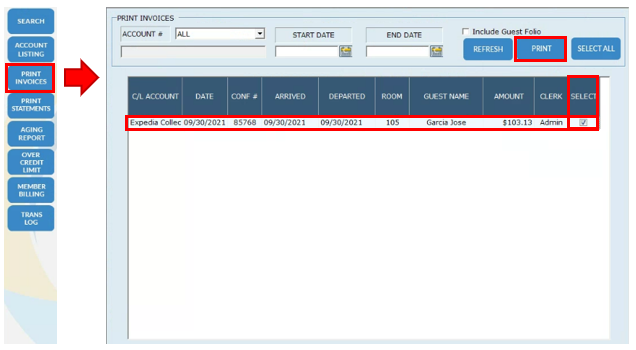 Compare Visual Matrix and Expedia

- Go to Accounting > City Ledger > Account Details

-
Select
the
Expedia Collect
account number. This will show all outstanding invoices
- Compare this list and totals to Expedia's statement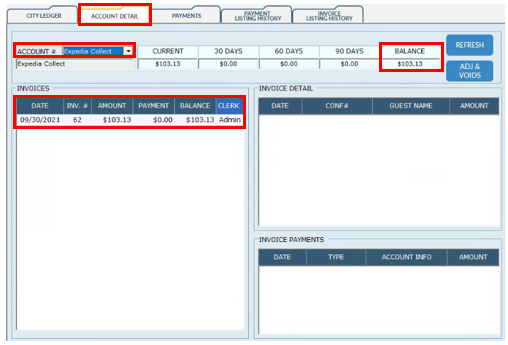 Credit the City Ledger Account

- Go to
Accounting > City Ledger > Payments
- Select the Expedia Collect account. The fields will be empty until the payment is posted

- Post an
A/R Direct Bill Credit
Payment (Code DX)
- The amount should be the same as the Expedia Statement

- Apply the Payment to the matching invoice(s). This should 0 out the account for the month, as long as the Expedia statement amount matches the amount in Visual Matrix