Hotel market segmentation is a way of dividing current and future guests into groups based on a set of shared characteristics.
Customer segmentation tells a hotel owner who the guests are and why they stay at the hotel. Customers can be segmented by geography, demographics, benefits, and needs. However, the most common customer segmentation in the hotel industry is purchase occasion, the reason behind why the guest is traveling.

For example:

- The business traveler that is conscious of price but more concerned with a convenient location

- Customers in groups include both leisure and business travelers. They might be looking for lodging, meeting rooms, and meals for the group

- Leisure travelers that are generally looking for a safe and secure hotel and families with children will be attracted to hotels with special programs

- Are guests booking more online or directly to the hotel?

- Which OTA (Online Travel Agency) are they mainly using?
- Market Segment: Who are the guests? Corporates, individual tourists, corporate groups, tourists groups, government employees, etc.

- Reason for Stay: Why are they at the hotel? Leisure, Sports, Conference, business, etc.

- Referral Codes: How did they book? Walk-ins, OTA, Hotel direct, Repeating guest, Travel agents, etc.

Go to Sales and Marketing > Setup
The Required box:

- If the box is checked: the field will be empty when you create a local reservation. The field will have to be populated using the drop-down before it will let you save the reservation.

- If the box is not checked a Default segment has to be chosen in the settings. The default segments will auto-populate on each reservation upon booking.
Go to the last line of the list and set up the new code:

- The Segment code: Type what you like, limited to 6 characters

- The Description: What the code is for

- Budget %: See below
- Active: Activate or deactivate a Segment. Warning: If the Segment is used in a 2Way mapping table and the marketing segment is deactivated it will prevent any new booking from coming in

The Budget % is only in the Market Segments and the Referral Codes set-ups.
You can use it if you want to apply a percentage when you do your market segmentation to be compared to budgetary numbers.

It will also allow you to take last year's figures and offset them by this budgetary percentage to reflect on a report as a comparative number.


The Reason for Stay is the only segment that can have a customize possibility through the code OTHER in case there are no matching reason.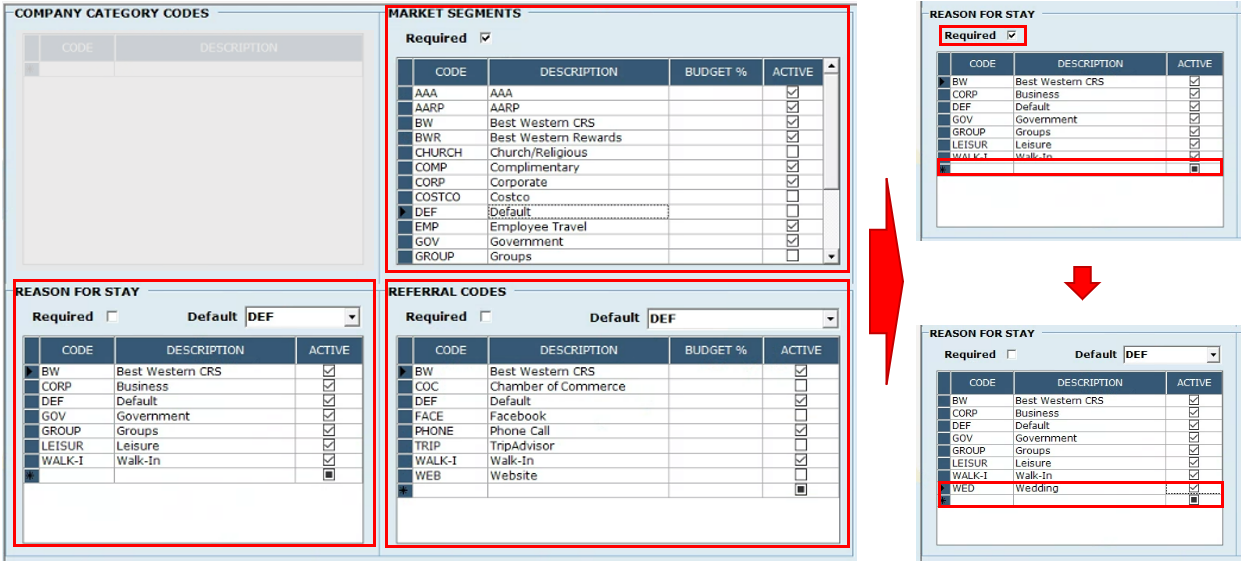 Deactivating a Market Segment: Warning

If the hotel does not use a Market Segment, it may be tempted to deactivate it.

Before deactivating a Market Segment, it is important to make sure it is not in use in the 2way interface.

If the code is deactivated while used or is missing in a setup, it will cause bookings not to be integrated into Visual Matrix.