Set up a Guest wake up call with the PBX (Desktop) 🎥
This feature requires an active PBX interface.
Path:
Front Office > Reservations > PBX > Guest
1. Search the guest by entering their name in Guest Information or select their room number from the drop-down.


The other tabs - Group, Arrival, and Departure - are only for guest search. Search for a guest who is part of a group or search by arrival or departure dates. Once you choose the guest, it will go back to the first tab Guest.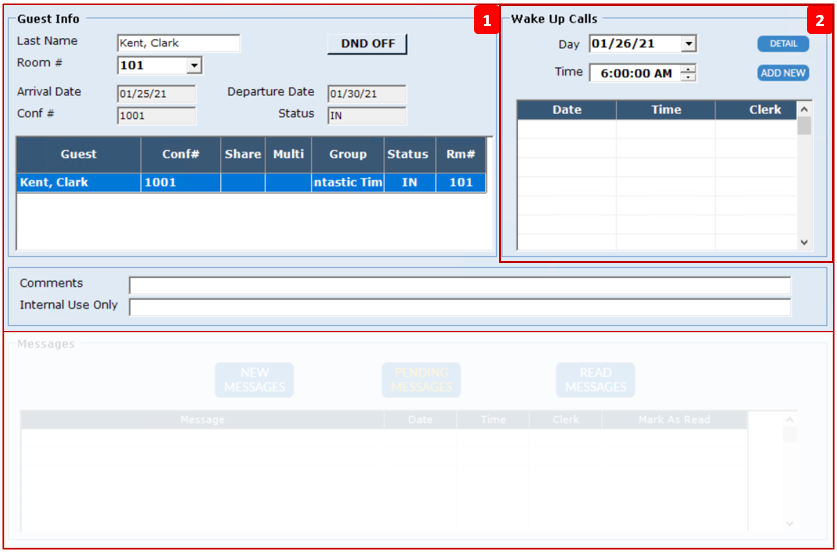 2. Select the day from the dropdown. Only the current day and the next day will show, even for a guest staying longer.
3. Select the time
using the arrows and the AM/PM button.
4. Click the orange plus in the top right to add the wake-up call.


Related Articles

Set up On-Call Feature (Desktop)

To setup the On-Call person(s), you need to access any Visual Matrix departments (Front Office, Housekeeping, Maintenance, ...), to see the OnCall Link in the top right corner of the page. The window is divided into 3 tabs: Guests Requests, Hotel, ...

Guest Texting Overview (Desktop)

Guest Texting is a free feature in Visual Matrix that opens a new channel of communication allowing you and your guests to connect before, during and even after their stay. Guest ttexting is available in the Visual Matrix Desktop and Cloud version. ...

Send a message alert to a guest with the PBX (Desktop) 🎥

? Watch Video This feature requires an active PBX interface. Path: Front Office > PBX > Guest, Group, Arrivals, or Departures 1. Search and locate your guest in the system. 2. Click New Messages and enter the message. The other tabs - Group, ...

Set Up Market Segments (Desktop) 🎥

? Watch Video Market Segments will help you determine who are your guests: business men and women, individual tourists, corporate groups, tourist groups, government employees, etc. Path: Sales & Marketing > Setup 1. The Market Segments setup is at ...

Set Up Automatic Room Revenue Tax Exempt (Desktop)

This feature made possible to set up a point in time when the room revenue will be tax exempt. Path: Management > Setup > Property > Taxes Enter the number of nights that will trigger room revenue to be tax exempt. If the guest stays longer than this ...