Petty cash is a nominal amount of money readily accessible for paying expenses too small to merit writing a check or using a credit card. A petty cash fund can be used for office supplies, cards for customers, flowers, paying for a catered lunch for employees, or reimbursing employees for expenses.
Every hotel may have its own way to manage its petty cash, this article will detail one way to include your petty cash in your Visual Matrix Report.

We will go through 3 steps:

- Creating a new General Ledger Category for the Daily Report Details
- Creating two new accounting codes

- Creating a new Guest Ledger House Account where you will post those codes

These 3 steps will ensure that the use of petty cash within the PMS is the same across all users and easily tracked. This will make using petty cash a more uniform and clean process.
Create a new GL Category
Path:
Management > Accounting Settings > Report Headings > Daily Detail Report Categories > Guest Ledger tab >
Click Add
For the Category Code, you can use any number that is not already used.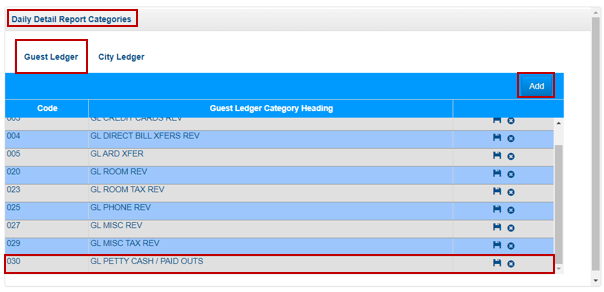 Create two new Accounting Codes
Create two new codes. One for the item that will be bought with that petty cash and one code for the actual use of that petty cash.

The petty cash will be going OUT and not IN and as such the code will be set up like the cash refund.

Do not forget to link those codes to the new Daily Details Report Category that we created in the above step.

You can use any name for the Accounting code or Description that you wish.

The most important thing is to set up one Credit (CR) code for the item that is bought and one Debit (DB) code for the use of the petty cash that will be reported.

See screenshots below:


Create a new Guest Ledger House Account
Path: Management > Rooms > House Accounts > Guest Ledger House Accounts (on the right) > Click on Add

The House Account Code is limited to 6 characters.

Using the codes
Any time, petty cash will be used, you will have to post it in the Guest Ledger House Account.

Path: Front Office > Cashiering > House Account > Choose the new Petty Cash Account > Click View > you created and post the code in it.


Reminder: A Guest Ledger House Account has to be at $0 to be able to get out of it and run the night audit without discrepancies in the Daily report.

The Operator Cash Out Report
Path: Front Office > Reports > Front Office > Operator Cash Out

We can see here that the use of petty cash is deducted from the cash that was received and needs to be dropped.

The Daily Report
The petty cash will show in its separate category and will not alter any other total or number on the report.